Travel with your Pet to Austin!
Pet Friendly Austin!
Getting Out and and Into it in Austin!
Wish your fun activity was featured here? click to list it!
Get a Groupon for a fun activity in Austin! So many different types of activites - Lady Bird Johnson Wildflower Center, Paint and sip events, etc. How about a spa treatment?
Need tickets for Austin?
Visit Site
1)
Texas Hill Country and LBJ Tour - from Viator -Overview Experience Texas Hill Country while exploring the life of U.S. President and Texas native son Lyndon Johnson. After a convenient hotel pickup, visit Johnson's "Texas White House," his reconstructed boyhood home (now a national park), and the Lyndon B. Johnson State Park and Historic Site. Learn about the cowboys and German immigrants who shaped the region, stop by historic Fredericksburg, and visit the legendary country music town of Luckenbach. Immerse yourself in the history and culture of the scenic Texas Hill Country Visit President Lyndon B. Johnson's childhood home and "Texas White House" Learn about the Hill Country's proud mix German immigrant and cowboy culture Make the most of limited time with convenient hotel pickup and drop-off . From $109. Have questions? (888) 651-9785
2)The Broken Spoke is Texas' most definitive dance hall. It's has a musical history that dates back to Bob Wills and The Texas Playboys. If you're ever in Austin, stop by for some traditional country music by some "real" country musicians. While you're here, check out our site and have yourself a big Texas Time. 3201 S Lamar Blvd, Austin, TX 78704 (512) 442-6189 - map




3)
Lake Travis Sunset Boat tour by Viator-Enjoy a cruise that lets you meet new people while taking in the sights along Lake Travis. Bring your own drinks—alcoholic beverages welcome—and a camera to capture the memorable experience! Lake Travis cruises take off from Float On's home base at Hurst Harbor Marina. From here we set sail on one of the clearest lakes in all of Texas, where worries fade & you escape into the gorgeous Hill Country. Enjoy the luxurious homes & beautiful limestone shores that give Travis it's trademark blue waters. Along the way you'll pass the now legendary Devil's Cove, one of the most prolific party coves in the country! After that we circle around Starnes Island, home of Lake Travis' 4th of July fireworks show & filmed in the movie Spy Kids, directed by Texas' own Robert Rodriguez. From here we begin our cruise back home to Hurst Harbor Marina.. so sit back, relax & enjoy the ride!!  From $69 …Have questions? (888) 651-9785
4) Austin Indoor Skydiving Experience by Viator! -Overview Experience the adrenaline rush of
skydiving without having to jump out of an airplane during an indoor skydiving session at iFLY Austin. Learn how to safely float in a vertical wind tunnel with wind speeds of up to 175 mph (282 kph). Your activity includes skydiving gear and two flights. Plus, receive one-on-one guidance from an accredited flight instructor and take home a personalized flight certificate. Skydive without jumping out of an airplane at iFly Austin No experience required—fly one-on-one with an accredited instructor Experience two exhilarating free-fall flights inside the wind tunnel from $92. Choose from multiple times to easily fit this activity into your schedule Have questions? (888) 651-9785
5)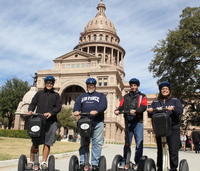 Austin Sightseeing Segway Tour by Viator- Cruise through Austin in style on this sightseeing Segway tour. Follow your guide down Congress Avenue and see several historical sites like the Texas State Capitol Building, the Driskill Hotel and the Bob Bullock Museum. You'll also learn fun facts about the city and stop for photo opportunities. Book it!
6) Canyon Lake Pontoon Boat Tour by Viator -
Overview: We offer a fully serviced experience, often similar experiences do not include an experienced boat guide/driver. We offer fun activities like tub towing, Lake Swimming and Fishing. Your time with us is flexible - you decide where you go and what you want to do from a list of suggestions by the boat driver. From $385. Have questions? (888) 651-9785
7) The Alamo Drafthouse: Come see your favorite movie like you've never seen it
before at the Alamo Drafthouse.   "Best movie theater in America, hands down!" "The food and drinks are amazing and the service is outstanding!" 3 Locations:
320 E 6th St, Austin, TX 78701 - (512) 861-7020;
1120 S Lamar Blvd Austin, TX - (512) 861-7040;
5701 W Slaughter Ln Austin, TX - (512) 861-7060
8) Longhorn Caverns - About an hour northwest of Austin, the undulating walls of
Longhorn Cavern State Park offer an almost other-worldly experience. The cavern has been used as a prehistoric shelter, a hiding place for stolen loot, and a Confederate stronghold. "It was an awesome tour, and our tour guide was great!" The cave is 68 degrees year-round. The park offers guided tours that last approximately 1 hour and 25 minutes (a 1.25-mile round trip) Tours are conveniently scheduled throughout the day. Longhorn Cave Tours, Inc.   
9)
Lady Bird Johnson Wildflower Center -See the natural beauty of the Texas Hill Country at the Lady Bird Johnson Wildflower Center, where planting areas, wildflower meadows, exhibits and observation tower pay homage to Lady Bird's devotion to native landscaping and preservation. Go see some texas bluebonnets! Not petfriendly. Open Tuesday-Saturday, 9 a.m.-5:30 p.m.; Sunday, 12-5:30 p.m. 512-232-0100. 4801 La Crosse Ave, Austin, TX 78739 - map
10) Barton Springs Pool - Swim in the constant 68-degree waters of Barton Springs Pool, an artesian spring-fed swimming hole in Zilker Park. Open daily 5 a.m.-10 p.m. Closed Thursdays, 9 a.m.-7 p.m. Nominal admission charge. 512-476-9044 70 degrees. 2201 Barton Springs Rd, Austin, TX 78746 - map Petfriendly
11) Lady Bird Lake Hike and Bike Trail - The heart of Austin is found along the Lady Bird Lake Hike and Bike Trail, a 10.1-mile path bordering the lake on its flow through downtown. 512-974-6700.
First Street Bridge at Lady Bird Lake
Austin TX 78701 - map
Petfriendly
12) Bob Bullock Texas State History Museum - Relive the pages of Texas history at the Bob Bullock Texas State History Museum. Interactive exhibits, artifacts, an IMAX Theatre and the multi-sensory Texas Spirit Theatre bring the myth, legend and fact of Texas all together under one roof. Open Monday-Saturday, 9 a.m.-6 p.m.; Sundays, 12-6 p.m. 512-936-8746. 1800 Congress Ave, Austin, TX 78701- map
13) Texas State Capitol - Completed in 1888, the pink granite Texas State Capitol stands 302 feet high and is 14 feet higher than our nation's capitol. Guided tours are offered weekdays, 8:30 a.m.-4:30 p.m.; Saturdays, 9:30 a.m.-3:30 p.m.; and Sundays, 12-3:30 p.m. Free admission. 512-463-0063. 1100 Congress Ave, Austin, TX 78701 - map
14) Hippie Hollow Park is a park located on the shore of Lake Travis in northwest Austin. It is the only legally recognized clothing-optional public park in the State of Texas. Address: 7000 Comanche Trail, Austin, TX 78732 Hours: Open today · 9:00am – 7:00 pm - map
1
5) McKinney Falls State Park is a state park located at the southeastern edge of Austin, Texas, United States around the confluence of Onion and Williamson Creeks and is administered by the Texas Parks and Wildlife Department. 5808 McKinney Falls Pkwy, Austin, TX 78744 - map Dogfriendly
16) Whip in Beer - "Very cool spot with 60 beers on tap and yummy Indian food."
"Great beer selection, amazing food, awesome vibe" 
Address: 1950 S I H 35, Austin, TX 78704 Phone: (512) 442-5337 - map
17) Mexic-Arte Museum is a fine arts museum in Austin, Texas. The Mission of the organization is to enrich and educate the community through the presentation and promotion of traditional and contemporary Mexican, Latino, and Latino art and culture. 419 Congress Ave, Austin, TX 78701 Phone: (512) 480-9373.map
18) Hamilton Pool - Pack a picnic and head to gorgeous natural swimming grotto Hamilton Pool. Featuring a gorgeous grotto and natural swimming area, Hamilton Pool Preserve is a glorious place to swim in cool, clear waters (so clear that you can see the fish as they brush past your legs). Hamilton Pool Preserve, 24300 Hamilton Pool Rd. Dripping Springs, TX  78620 - map
19) Paramount theater - The Paramount Theatre is a live theatre venue/movie theatre located in Downtown Austin, Texas, United States of America. The classical revival style structure was built in 1915. The building was listed in the National Register of Historic Places on June 23, 1976. In the Paramount's 90-year history, it has played host to a wide variety of acts ranging from vaudeville legends The Marx Brothers, to the premieres of such films as 1966's Batman and 2005's Sin City. 125 4th Ave NE Austin, MN 55912 - map
20) Mayfield Park Peacocks  - Mayfield Park and Preserve is an island of restful respite located in the middle of Austin, Texas. Mayfield Park is listed in the National Register of Historic Places. This entire estate was presented to the city of Austin in 1971 by Mary Mayfield Gutsch for all Austinites to enjoy as a park. Mayfield Park includes an historic cottage, 2 acres of colorful cottage gardens with towering palm trees, brilliant peacocks and delicate water lilies, all blending in beautiful harmony. Mayfield Preserve is the 21 acre natural area that surrounds the park, containing walking trails and wildlife habitat. 3801 W 35th St, Austin, TX 78703  (512) 974-6700 "What a fantastic hidden gem this little park is!" - map
21) Lyndon Baines Johnson Library and Museum - Visit the Lyndon Baines Johnson Library and Museum - also called the LBJ Presidential Library )to see copious volumes of presidential papers, a scale replica of the Oval Office during his presidency, and a First Lady's Gallery devoted to the work of Lady Bird Johnson. Open daily, except Christmas, 9 a.m.-5 p.m. Free admission and parking. 512-721-0200 2313 Red River St, Austin, TX 78705 - map
22) South Congress Avenue - Head to South Congress Avenue to discover eclectic shops, trendy restaurants, unique accommodations and popular music venues. On the first Thursday of each month, merchants keep their doors open until 10 p.m., playing host to an array of events and activities.
1600 S Congress Ave
Austin, TX - map